HOW TO BE A CLASSY LADY?
HOW TO BE A CLASSY LADY?
What comes to your mind when you think "classy lady"? I imagine a neat, well dressed woman sitting in a café. She is reading a book, relaxing and drinking coffee (or prosecco as some may prefer, I do ;) ). I see her by the round table in a café in Paris… Okay enough of this daydreaming. :) There are plenty of books about French style. Well, you have to admit French women have this certain something! No question in that. But they also have some specific character traits: propriety, ability to talk, sense of humor… Just perfect!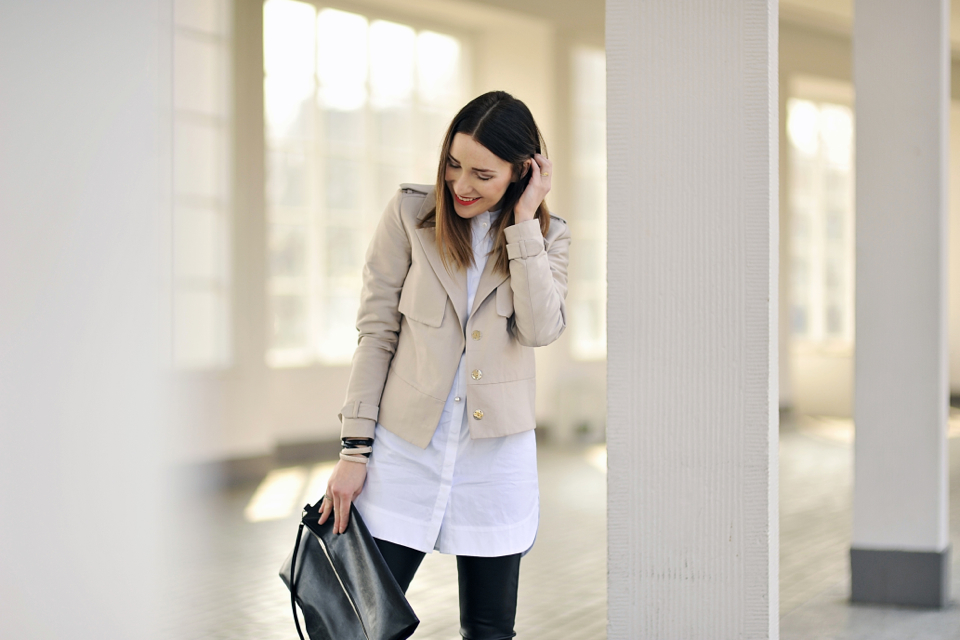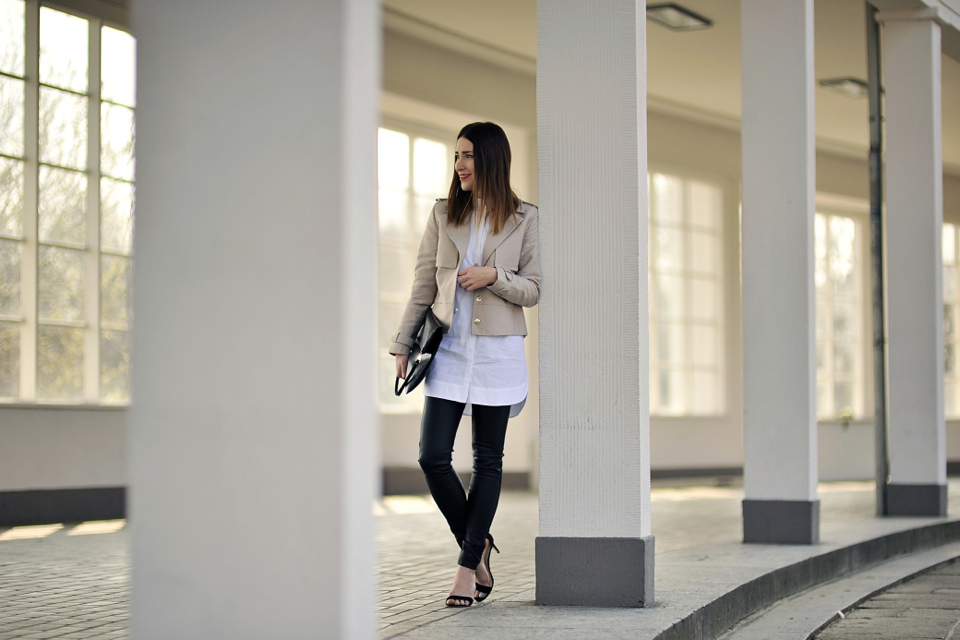 Looking good is the first step towards success. You know, if you look good someone may think that you are a classy woman at least until we start talking… ;) I'm kidding of course. I'm not going to tell you all those advice like: don't curse, don't talk with your mouth full. In this post I'm focusing on the superficial qualities. We can always work on our character and behavior whole life and still be surprised by some situations. In this comparison being classy when it comes to look is a piece of cake… ;)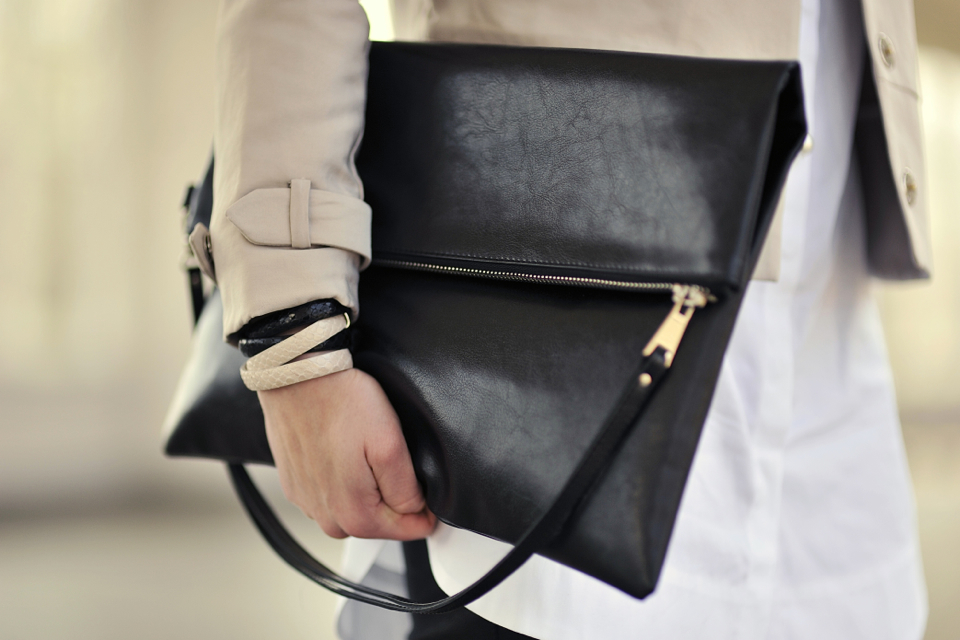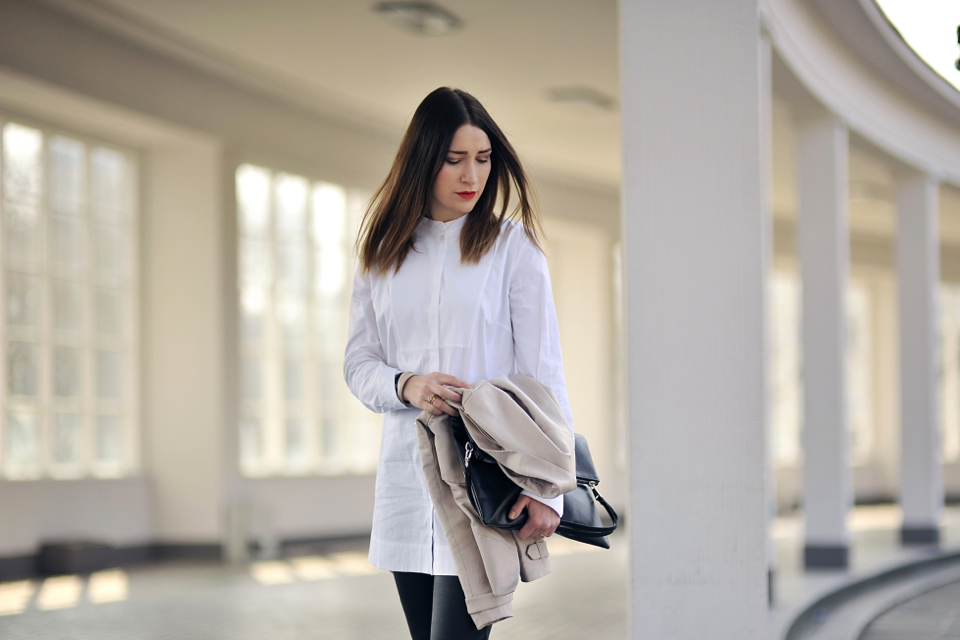 How should classy woman look like:
1 Clothes. Classic style and minimalism. Those are the keywords. If you want to always look chic choose classic style in neutral colors. If you build your wardrobe basing on the classic pieces there is less morning problems with "having nothing to wear". :) Simple, classy things should be the base for your wardrobe. You can always buy 2 or 3 things which are on now and you will be always trendy. This season such thing is a bomber jacket. You can wear this jacket with white shirt or turtleneck or classic sweater. I have been experimenting with my style for quite a long time. With very different outcomes. You can see some of my older posts to see how my style changed (or maybe don't do it ;)). For some time now, I have known what clothes I like and what clothes make me feel confident. You probably noticed that I like an elegant style with some fashionable elements. In my outfit today I'm wearing leather pants instead of traditional black pants and my white shirt is a bit longer than normally. This outfit it feels like my style. But do I look like a classy woman? Well, I guess you have to judge… :)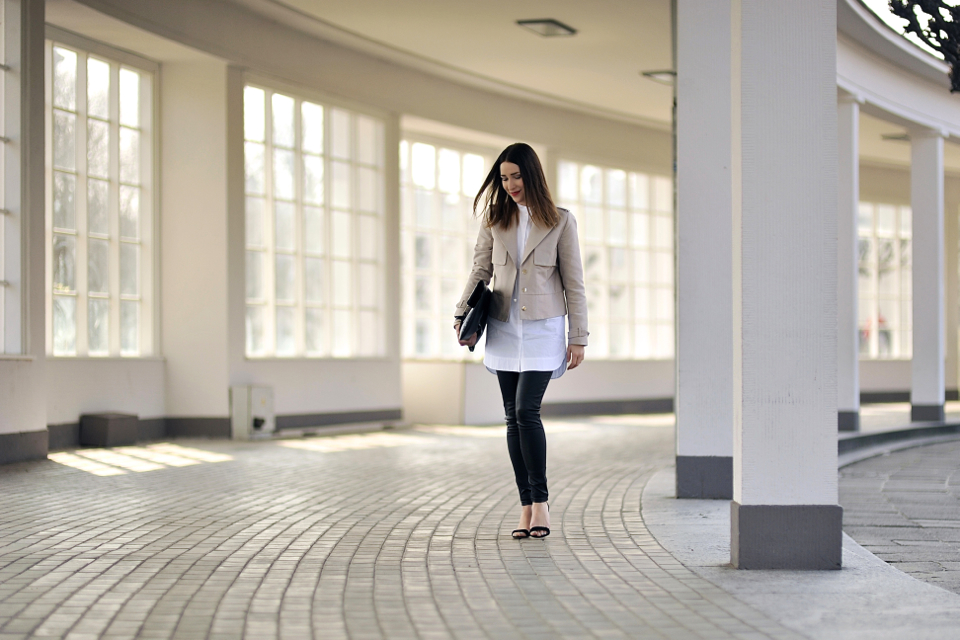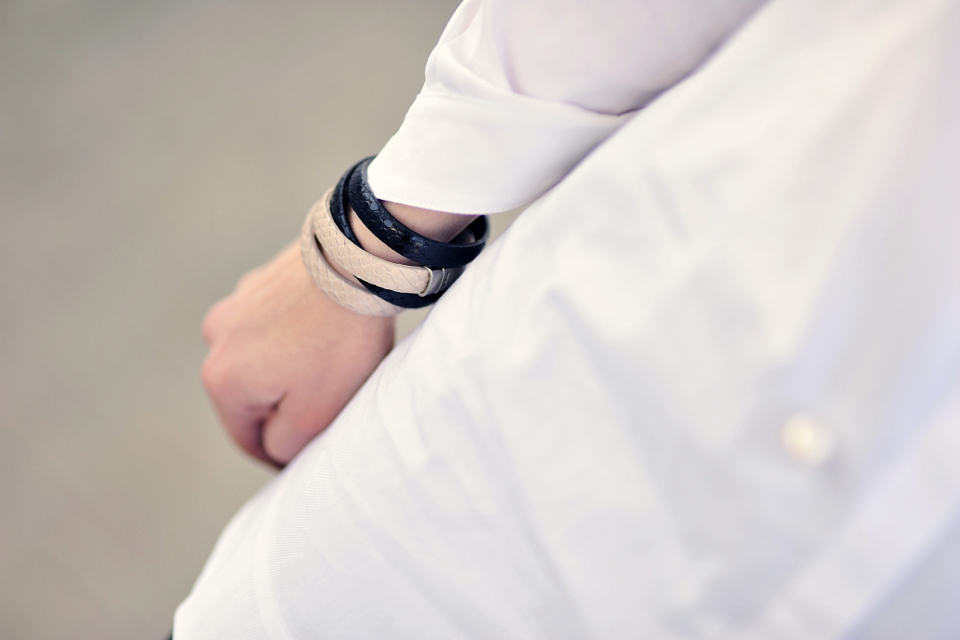 2 Make up. Eyebrows drawn on your face? That's a no. What we are looking for here is being natural or rather looking natural. ;) What I mean by looking natural is enhancing your appearance but always be reasonable about it. If we put more make up on the eyelids then use a light lipstick and the other way round. A classy woman knows what makeup to wear in the morning and what in the evening… Glitter, feather eyelashes and face burnt in a solarium – those are the opposites of a classy woman. Classy woman is never artificial, she would never apply fake nails… If you are not sure how to do a proper make up, there are thousands of tutorials on youtube.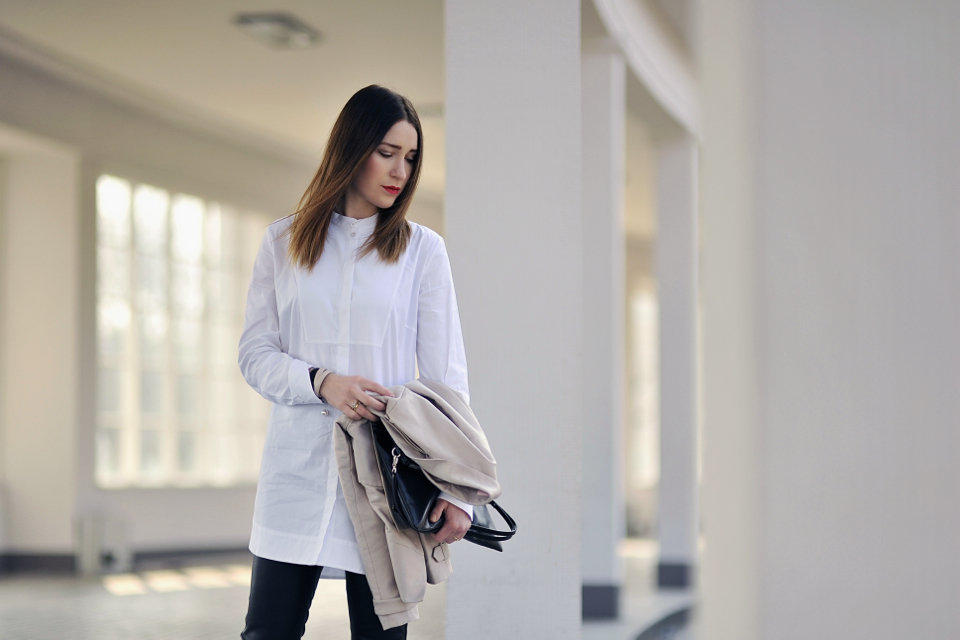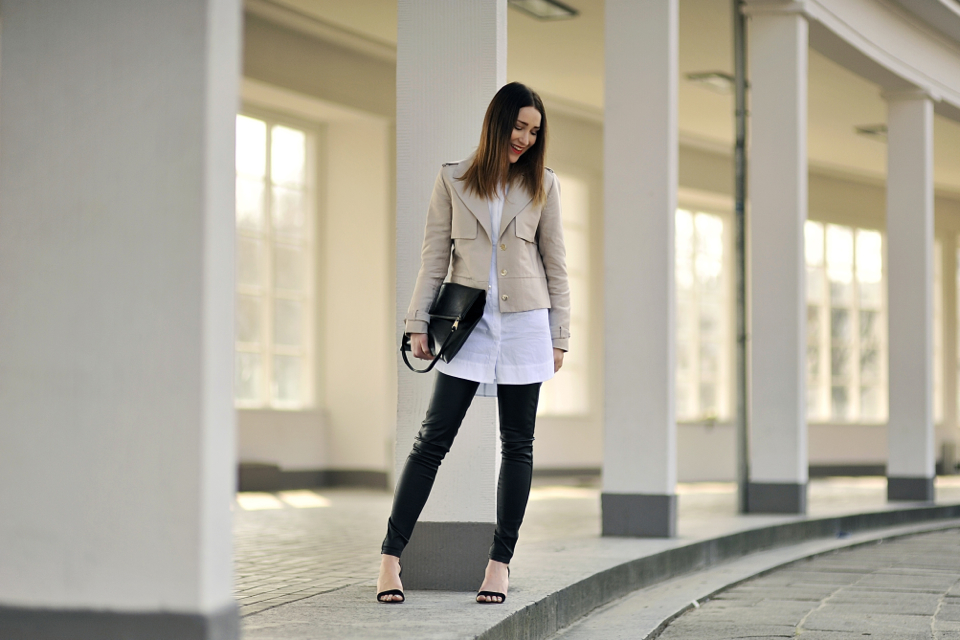 Maybe try something new? Once in a while, we should make small changes in our look. It might be changing your black eyeliner for a graphite one. Such tiny details really make a difference! Like when I didn't put mascara on my bottom lashes. I don't know why, but it was worth trying. ;) When I imagine a classy woman I always see her wearing red lipstick. Many women are afraid to use it but they really shouldn't. I think it is a secret weapon to distract others attention from a pimple on a forehead or dark circles under your eyes. But it is important to choose the right shade of lipstick for you. You have to find the one that makes your teeth seem whiter than they really are!
3. Accessories. Classy woman would never wear dirty shoes. For sure a classy woman wouldn't go out with worn out bag. I am not talking you need to spend 10 thousand on a bag. There are classy, elegant bags you can find in a store that cost a reasonable price. Remember that sometimes it is better to have one decent bag than 5 bought on sale. If you buy a cheap bag after some time you will find the material worn out. I believe accessories are a key to nice outfit, so they need to be perfect. Watching photos from fashion weeks around the world you must have noticed that there are plenty women wearing simple white shirt, classic pants and some awesome accessories – bag and shoes. There are some great ways of saving money for something really nice. For example, you can quit smoking and put all the saved money in a piggy bank… After 2 years you would be surprised how much money is there. Another way is to save small sums but doing it regularly. It is very effective as long as you don't open your piggy bank it until it's full :) I saved money for the YSL bag of my dreams by selling unnecessary things online (I sold a digital camera that I didn't use anymore, tulle skirt I haven't been wearing for two years, colorful headphones). All those things only occupied place in my apartment, and now they turned into one of my favorite things! :) I can't tell if Shiny Syl is a classy woman but for sure she is resourceful.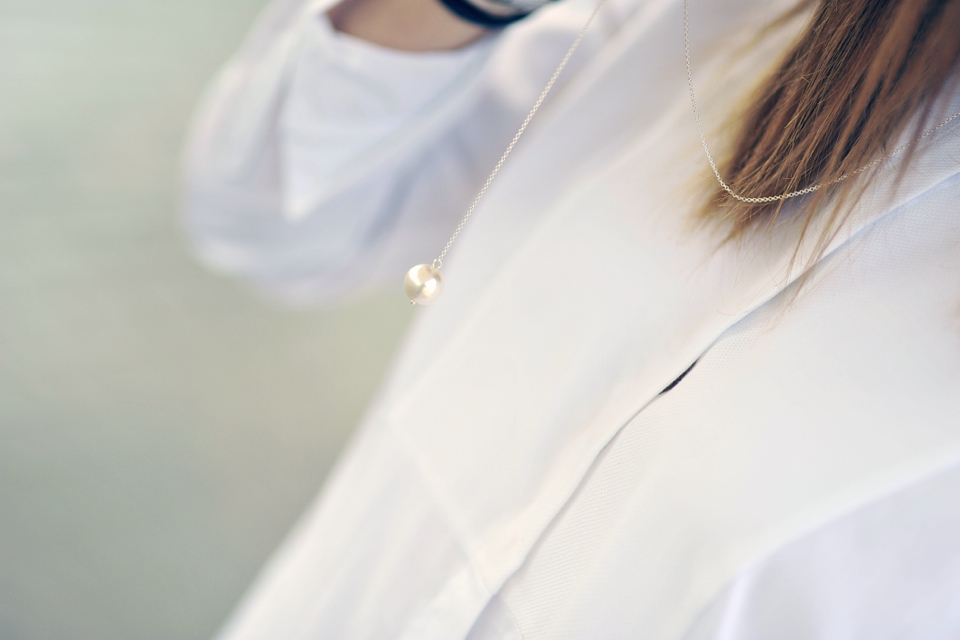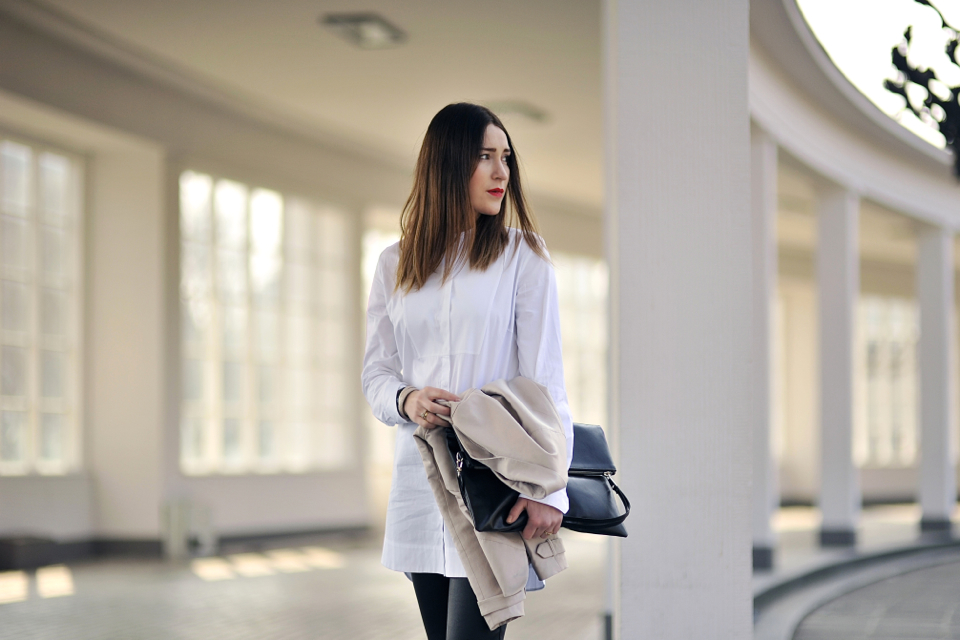 All of my other coaching guides can be found in the bookmark labelled Secret. :)
PHOTOGRAPHER: Cyryl
WHITE LONG SHIRT: Tallinder
JACKET: Tallinder
LEATHER PANTS: Tallinder
LEATHER BAG: Tallinder
LEATHER SHOES: Tallinder
SILVER NECKLACE WITH PEARL: Tallinder
BRACELETS: Tallinder

Post how to be a classy lady appeared first on shinysyl.com